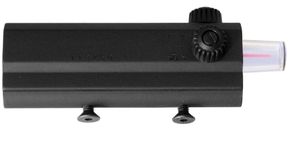 Pro-Dot sighting systems are more compact than our 1" OEG line. Our Striker/Street Sweeper sight was designed in South Africa specifically for the original South African Stryker/Striker, and also offered as a factory or aftermarket option on the Cobray Street Sweeper. Both eyes remain open for instant target acquisition, improved depth perception, and no loss of peripheral vision. The Armson Aiming Concept instantly merges the dot and target. A fiber optic light source provides illumination during the day and the optional Tritium upgrade self-powers the sight in low light conditions (must be added as an option below). No batteries required. The all new Upgraded Adjuster and Knob Set is now included as a standard feature at no additional charge. Constructed of aircraft grade aluminum alloy with matte black anodized finish, Armson O.E.G. sights are built to withstand the most demanding use.


SOLD OUT


Non-Tritium GREEN DOT option now available. Please select DOT and Tritium options below.


Copyright 1998 - 2023 Armson USA, LLC.
Pro-Dot, Maximum Duty, Max Duty, ACS-21, Armson, and O.E.G. are trademarks of Armson USA, LLC. All rights reserved.